Change the game in just 15 minutes a day.
Unlock your potential and become a Leader with Influence by investing just 15 minutes a day in developing your professional brand. We offer 125+ microlearning opportunities, including courses, resources, quizzes, and more to help you reach your leadership, business, and work-culture aspirations. For multiple registrations, please contact
[email protected]
ngwithinfluencenow.com.
Benefits of this subscription plan
Set achievable goals
Receive certificates by completing brief but challenging courses that you can use for recertification credit and to measure your growth.
Satisfaction guaranteed
Your development with us will help you learn how to create, capture and deliver value in a ever-changing world. You'll leave with smart strategies to optimize your performance and satisfaction.
Material you'll love
Engaging content, checklists, resources for additional study, self-assessment, certificates, and much more.
Don't hesitate
Getting Started Is EASY
#1 Subscribe NOW


Investing in your development now makes sense. We've made it easy, and affordable. All of our resources are available to you 24/7.
#2 Watch Our Introductory Courses
We want you to have a strong start. Watch two brief introductions to ensure you have a solid start to your ongoing development.
#3 Get Started!


You can complete the development plan, take the initial assessment, or jump right in and start taking courses. The choice is yours. Start today!
#4 Stay Engaged


You can take these courses over and over and over. Keep notes, engage the community, or surf through the resources. Revisit as often as you'd like.
\Learnworlds\Codeneurons\Pages\ZoneRenderers\CourseCards
Pam Green is an industry leader when it comes to executive development and advancement.
Recently voted one of DC's top 20 executive coaches, and with more than 30 years of leadership experience, Pam Green is a powerhouse for engaging leaders, executives, and their boards. Today, Pam works with each tier of leadership (leaders, executives, and boards) to help them achieve their professional and organizational competitive advantage.

Pam's approachable style as a speaker, facilitator, and coach allows her to create a psychologically safe environment for her clients to make transformative and sustainable shifts in their conduct, attitude, and behavior.

Pam holds certifications as an Internal Conflict Coach (ICC), an SPHR from the Human Resource Certification Institute (HRCI), and a Professional Certified Coach (PCC) from the International Coach Federation (ICF). She earned a Bachelor of Science Degree and her MBA from Franklin University in Columbus, Ohio, and is now pursuing a Ph.D. in Organizational Management to continue to lead dynamic organizations through complex challenges.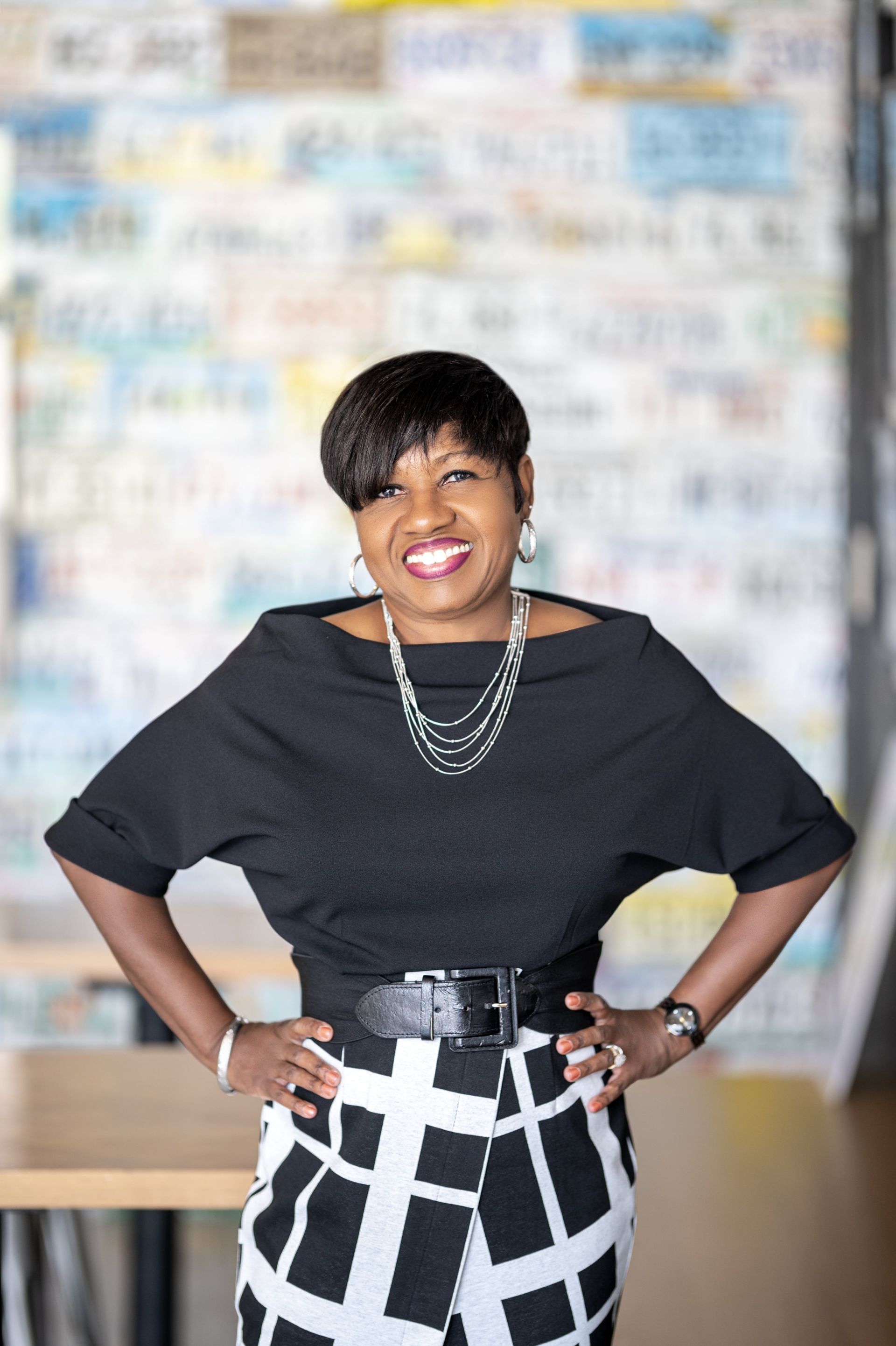 "It's not about job knowledge when you reach the top, it's about overcoming barriers and practicing new skills that help you navigate complex business demands."
Pam Green
Executive Coach
Pamela J. Green Solutions
Achieve your competitive advantage by joining our Leading with InfluenceTM Academy!
Frequently asked questions
Do I need to purchase one of Pam's branding books to enroll or complete any part of the program?
No. You are not required to purchase anything additional to enroll or complete the program.
What is online learning like?
Online learning is similar to in-person learning in that information is presented to a learner. Online learning may be presented "live" or "on-demand." Our online learning is presented "on-demand" and, in short, easy-to-digest segments that are self-paced.

We've found through our research that leaders do not have a lot of time to take courses, attend webinars or leave the office for their development. On-demand online learning offers a way to get you the professional development you need when you need it. Each of our microlearning courses can be completed within a 15-minute or 30-minute break.
Can I learn at my own pace?
Yes. The beauty of a self-paced learning environment is that you can start and stop whenever you'd like and never lose your place - your progress is bookmarked to make resuming a snap. You can also revisit a course you've started as many times as you'd like.
Are you accredited or licensed by educational organizations?
There is no requirement for our courses to be accredited. All of our content is proprietary and licensed for personal use. You will use it for your development but are not permitted to share it. Each person has their own subscription and content is not to be shared outside of the Academy community.
Does microlearning really work?
The answer to this question depends on you. Microlearning works for those who are willing to open their mind to new ideas, reflect, practice, and repeat. Studies show that learners who absorb content in smaller segments are better able to grasp and retain concepts.
What types of assignments do you give?
We will not assign you anything. Our learning plan calls for reflection; however, you decide how much time to devote to reflection. Our learning plan encourages you to put your new skills to the test, which occurs naturally in real-life situations during your workday. We will offer you opportunities to engage in a community discussion about various scenarios we'll post; however, your reply to these discussion posts is voluntary. The beauty of this program is that there is no demand for a specific amount of your time or a schedule for you to keep.
What are the requirements to take the courses or sign up with your Academy?
There are no enrollment prerequisites. Your annual subscription to the Leading with Influence AcademyTM must be paid in full to begin taking courses. We offer one complimentary course to help you make a decision about your subscription. Once you enroll, you'll be encouraged to review two courses designed to help you get the most out of your enrollment and to help you understand why your leadership development is vital in today's workforce.
What are the technology requirements?
All Leadership with Influence AcademyTM courses can be accessed on Android or Apple devices, including laptops, tablets, and cell phones. The Academy app provides a better experience when viewing courses on your cell phone.
How long does each course take?
All our courses are designed with the busy leader in mind. You can complete any of our courses in 30-minutes, most within 15-minutes or less. You can complete a course on your lunch break, between meetings, while waiting for the train, or with your morning cup of coffee.
Why should I use online microlearning?
Everyone can benefit from online learning when it's approached with enthusiasm. You'll benefit from the convenience, flexibility, and ability to learn at your own pace, capturing otherwise lost moments by learning in short bursts. Did you know that, according to BestColleges.com, 70% of students said online education was better than or equal to in-person learning? Plus, 60% of remote learners said they would likely enroll in online classes again. According to elearningindustry.com, online enrollees gain more knowledge than in a traditional classroom. And a study from The Research Institute of America shows that eLearning increases the retention rate of students. Online learning yields 25 to 60% retention rates, while face-to-face training only yields 8 to 10%.
How much does each course cost?
The entire Academy catalog of microlearning courses is available to you for one flat rate annual subscription; there are no hidden costs or fees. We will alert you when it is time to renew so you can decide if you are ready to stop learning.
How do I use the courses to obtain recertification credits for a credential?
Many of our enrollees have credentials that require them to recertify every few years. We offer certificates of completion that you can download and apply toward your recertification credits. It's just that easy.
What if I run into technical challenges or have questions?
Why should I enroll in your program versus others?
Our unique approach to learning provides easy-to-digest microlessons that are relevant and practical. Short, quick learning times allow you to focus on your work, your life, and improve your leadership skills. Our learning community scenarios provide opportunities to practice your skills in a safe place, explore different approaches to a problem without hurting employees, and provide a discreet forum for discussing issues with other leader-peers.
Our platform and app allow you flexibility in accessing courses whether at your desk, in a park with your tablet, or in the car with your phone. You'll also gain access to many valuable resources, a supportive community, and a place to keep track of your work without missing a beat.


This program is not designed to replace traditional learning experiences but to supplement them. When you don't have time to read a book, search for an article or take a semester course, you can grab your device and get what you need in a matter of minutes, not hours, days, weeks, or months.
How do I purchase multiple registrations?
Our platform does not permit sharing of subscriptions. If your organization would like to extend this experience to multiple leaders, we offer bulk registration packages at a reduced per person annual subscription. Visit the registration page for options, or send an email to
[email protected]
for more information.
Access to this content is for subscribers only.
Subscribe NOW